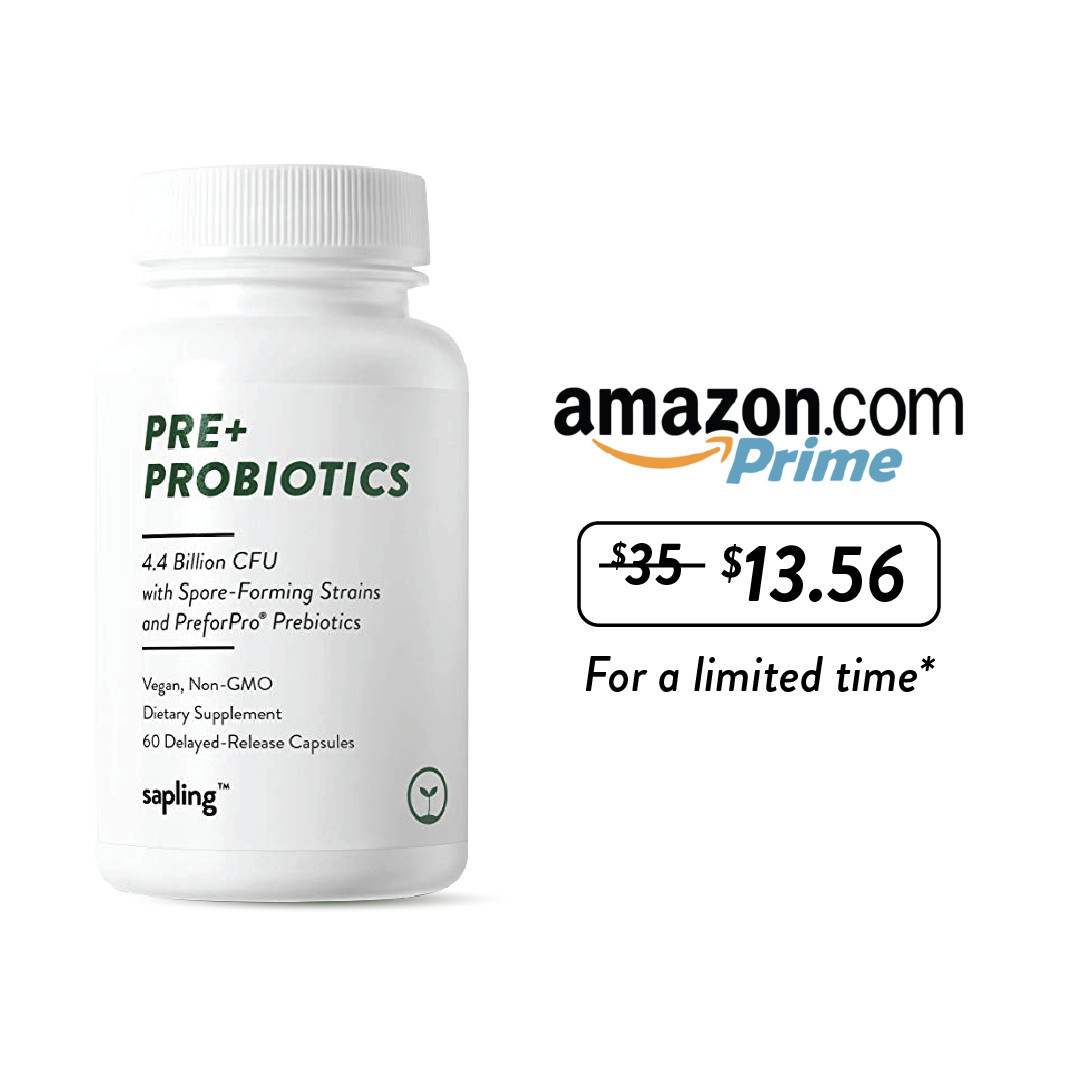 Experience the difference
with combined Prebiotics + Probiotics!
- Tap Get Started in Messenger
- We'll send you a personal discount code!
⭐️⭐️⭐️⭐️⭐️
Working Great so Far!
I have suffered from tummy issues for quite some time and while it isn't a cure all for me, I am a fan of this product as it has significantly helped in alleviating my daily discomfort and helps with my overall digestion. I've even gotten a few friends to also purchase this product and they are happy with their results. Thanks Sapling!
-GM
⭐️⭐️⭐️⭐️⭐️
I would definitely buy again.
This product is good for the money. I love how there is pre and probiotics in one.
- Leslie R.
⭐️⭐️⭐️⭐️⭐️
Great probiotic and a tree is planted for every bottle purchased!  
Love the product so far, has improved my gut function and immune system!
- Lindsey B.
---
Frequently Asked Questions
Yes, this product is vegan.
Yes, this product is non-gmo.
Where is this product made?
Our Pre+Probiotics is bottled in the United States. Both the prebiotic and probiotics in the product were also created in the United States.
Where are the ingredients sourced from?
Both the prebiotic and probiotics are sourced from the United States.
Two capsules per serving. There are 30 servings per bottle with a total of 60 vegetable capsules.
How many CFUs does this product contain and why?
Sapling™ Pre+ Probiotics contains 4.4 billion colony forming units (CFUs). When designing our product, we chose quality over quantity. Many probiotics on the market stuff their products with far more CFUs than the body needs without focusing on the quality of the strains being used or delivery of the probiotics to your body. We believe balance, quality, and delivery is far more important. To address this, we added 4 different strains including a patented strain DE111™. We also added a patented prebiotic called PreforPro®. Prebiotics stimulate and feed the natural bacteria in the gut. Lastly, we added a delayed-release capsule to ensure the probiotics reach their desired destination.
When should I take this product?
We recommend taking two capsules before or with a meal.
Does this product need to be refrigerated?
Our product does not need to be refrigerated. Our probiotic strains survive without the need for refrigeration. Refrigeration is fine, but avoid putting them in the freezer.
Can I use a pill organizer?
We recommend avoiding pill organizers as they are not airtight and can expose the probiotics to moisture. For maximum benefit, keep the pills in an airtight container or the bottle they were shipped in.
Where should I store the product?
Although the product is shelf stable after being opened, we recommend that it is stored in an airtight container in a cool, dry area. Avoid sunlight and moisture.
Is this product FDA approved?
The FDA does not approve dietary supplements by law. The FDA does regulate both dietary supplements and dietary ingredients, which all of our products adhere too. Our products adhere to the FDA's current Good Manufacturing Practices (cGMP). They are also produced in NSF certified facilities as well.